Ashish Panchel, Jason Bartos, Jose Cabanas et el published uptdated guidelines for cardiac resuscitation in Circulation.
Salient features are summarized in this picture.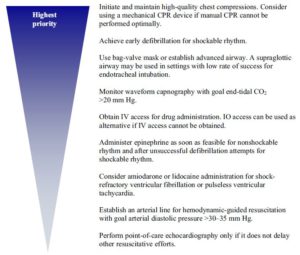 Now a days the guidelines are updated on a continuous basis but these are the salient changes summarized in a table form.
Most updated treatment recommendations for cardiac arrest resuscitation
 
FOR
AGAINST
AIRWAY MANAGEMENT

Bag-mask valve or an advanced Airway.


Supraglottic airway(SGA) for adults with OHCA in settings with a low tracheal intubation success rate.


Tracheal intubation or SGA where high tracheal intubation success rate

Cricoid pressure
MECHANICAL CPR
Where sustained high-quality manual chest compressions are impractical or compromise provider safety
ROUTINE USE not recommended
IV OR IO
IV
IO ONLY IF CANT GET IV
VASOPRESSORS  


EPINEPHRINE FOR nonshockable rhythms, as soon as feasible
FOR SHOCKABLE RHYTHM, after initial attempts of shock fail
Vasopressin, alone or with epinephrine
ANTIARRHYTHMIC
MEDICATIONS
Amiodarone or lidocaine in adults with shock-refractory ventricular fibrillation/ pulseless ventricular tachycardia
Routine use of magnesium not recommended.
May be considered for treatment of polymorphic VT associated with a long QT interval (torsades de pointes)
HEMODYNAMICS-GUIDED
RESUSCITATION
 
Against using ETCO2 cutoff values alone as a mortality predictor or on the decision to stop a resuscitation attempt
DOUBLE SEQUENTIAL DEFIBRILLATION
 
Not proven yet
EXTRACORPOREAL CPR
 
Routine use not recommended
POINT-OF-CARE ULTRASOUND
 
Not beneficial
POST RESUSCITATIVE CARE
Comprehensive, structured, multidisciplinary
system of care should be implemented
 
RECOVERY AND SURVIVORSHIP

Address treatment, surveillance,
and rehabilitation need

 
BOOSTER TRAINING FOR PROVIDERS

Every 2 yrs

 
A new phase of recovery is added to the chain of survival links.